Discover more from Prodity: Product Thinking
The latest and best thinking on AI, technology, product management, UX design, and the philosophy of creating - questioning assumptions, learning to observe, thinking more deeply, and creating understanding and value.
Copilot, Humanoid Robots, Presentation Tools, and Who We Are After AI
This week's update:
I'm iterating on the format, but like the idea of news from the week, exploring specific tools and products, and diving into deeper implications of AI. News, product, philosophy (sums me up as well). So here we go:
👩‍✈️ Microsoft Copilot

🦾 Humanoid Robots

🖼️ Photoshop

🖥️ Presentation Tools

🧘 Who Are We After AI?
Latest News and Updates
Microsoft came out big with Build 2023. It was AI-focused, as you can imagine. And they announced their AI copilot for Windows 11 and Office 365, and Bing for ChatGPT.
The company has made several announcements on how it's expanding its use of AI across its apps and services, including in Windows 11, Microsoft 365, and more.
This was inevitable, and will likely accelerate.
The new funding will be used to accelerate the development and manufacturing of the company's first autonomous humanoid, which is expected to launch in the next few months.

"We believe general-purpose humanoid robots have far more potential than single-purpose robots," said Adcock, "The deployment into the workforce can help address labor shortages and over time lead the way in eliminating the need for unsafe and undesirable jobs."
No signs of slowing down in the AI space, and funding continues to grow among all the different companies. Anthropic, the builder of Claude, has raised $450 million this week.
We are pleased to announce that we have raised $450 million in Series C funding led by Spark Capital with participation from Google, Salesforce Ventures, Sound Ventures, Zoom Ventures, and others. The funding will support our continued work developing helpful, harmless, and honest AI systems—including Claude, an AI assistant that can perform a wide variety of conversational and text processing tasks.
Photoshop is synonymous with photo editing and manipulation. So it isn't surprising that Adobe has added AI generation to the popular editing tool.
The new AI tools will work similarly to other AI image creation technology, such as Midjourney and DALL-E, which allow people to produce pictures from simple text prompts.
AI is taking a lot of companies to record highs. That includes chip maker Nvidia.
Nvidia has come to dominate the market for chips used in artificial intelligence (AI) systems.

But all that would not be possible without powerful computer hardware - in particular computer chips from California-based Nvidia.

Originally known for making the type of computer chips that process graphics, particularly for computer games, Nvidia hardware underpins most AI applications today.
Useful Tools & Resources
This week I explored tools to help create slides and presentations. I'll be creating a library of these tools soon, so remember to check back for everything soon.
This tool integrates directly with Google Slides. I took an article I wrote for Product Thinking, pasted it in, and asked for a presentation. And got one. So if you have written content (less than 2500 words for the free version), you can easily generate a presentation.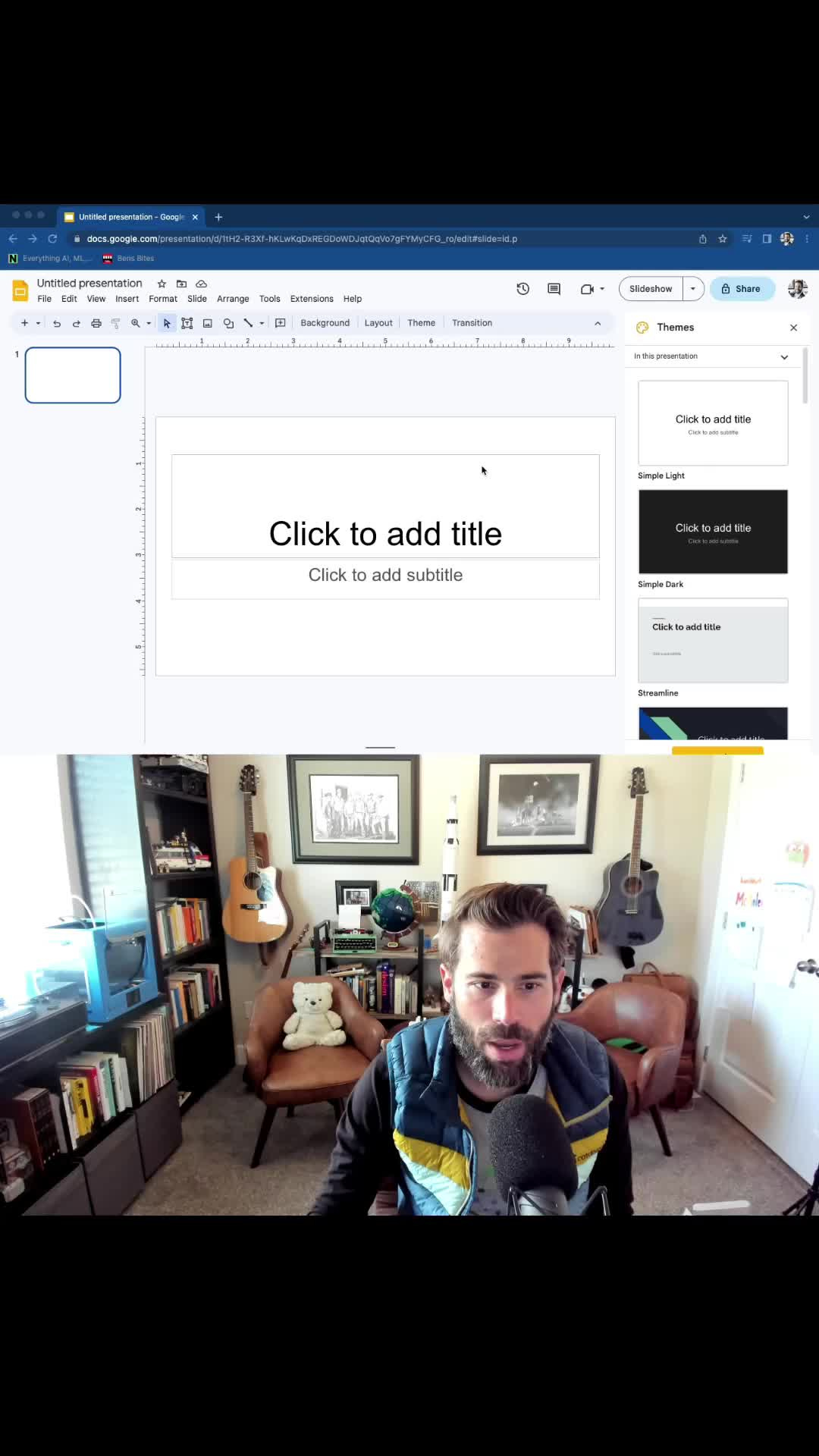 @ai.nexthorizonGenerating AI slides - stop making your own presentations #slides#chatgpt #ai
Tiktok failed to load.

Enable 3rd party cookies or use another browser
Tome took my prompt to create a presentation on "product roadmaps" and ran with it. It looks really good as well. I'd need to edit quite a bit if I wanted it to align with my article, but the fact I could simply create a presentation in a minute on a topic is incredible.
I was impressed by the content generated by my simple prompt on this one. It gives more of a framework and would need more editing, but also gives lots of presenter notes. Not my first choice in graphics for the subject, but I'd play around with that some more to fine tune it.
I wasn't able to create a product roadmap presentation with Chatba since traffic was too high, so I had to settle for a cached prompt about the failure of Zune. It seems simpler than the other presentations both in style and content, which may work for you.
Deep Dive
Who will we be when AI takes our jobs? Or at least disrupts significant portions of them?
Job disruptions aren't unusual. As new technology advances, it always disrupts the old way of doing things. According to The Atlantic:
"Before, progress was linear and predictable. You figured out the steps and the computer followed them. It followed the procedure; it didn't learn and it didn't improvise," the MIT professor David Autor, one of the world's foremost experts on employment and technological change, told me. ChatGPT and the like do improvise, promising to destabilize a lot of white-collar work, regardless of whether they eliminate jobs or not.
It is difficult to say how many jobs will be disrupted, especially among the highly educated. But the rapid advance of AI may make this disruption unusual, according to Wired:
we've never had a wave of automation in which white-collar workers are uniquely vulnerable, and we should therefore expect this one to play out differently.

The crux of the difference lies in the relationship that blue-collar and white-collar workers have with work. According to one study, white-collar workers tend to feel that they "express" their "full potential" more at work than blue-collar workers do; they also experience higher levels of "developing inner self" at work. 
While many who work in manual labor (rightly) identify their work as a means to an end—a paycheck—many of us who work in white-collar jobs (wrongly) develop our identities around our jobs.
This is due to a number of factors. For many of us, our work becomes an art form. We view it as a creative expression or ourselves, and so to see a machine be able to master the appearance of creativity is shocking at first.
At the furthest edge of white-collar work is a species of task where competency is so admired that it becomes a sport or an art, and competency is rewarded by society with status and esteem, over and above financial compensation. This is the category of games of logic and art. Our shock at the new wave of AI models like ChatGPT and Midjourney comes from their proficiency at the artier, more creative tasks like writing and illustration. But the more strictly logical sports of chess and Go have long since been conquered by previous waves of AI, and so it may be instructive for the left-brainers to look in on how the right-brainers have handled usurption, emotionally and practically. 
How have other areas handled this type of disruption? In Go, the top players took different paths. For some, it pushed them out of the game and into depression. For others, they joined AI team (if you can't beat them, join them). And still for others, they shifted from their old approach to Go to a new approach, and have thrived.
Important to this story, too, is that, unlike Fan, whose pivot to temporary AI research consultant could be seen as a demotion from European Go champion, Ke's pivot allowed him to remain at the top of the game.
We're likely to see a massive shift in the coming years based on the technology we've created. And it is already happening according to the LA Times, slowly, then rapidly:
The maddening thing is that, at least at first, it's probably not going to look like much of anything. There will be no cybernetic android that lumbers over to your desk and takes over your work duties, no disembodied robot voice that suddenly assumes command over your department. It might just look like routine layoffs, or a freelancer having more trouble finding work.
If you've not seen this yet, you probably will.
In the end, we're still getting more AI and fewer humans — even if the AI is not doing the humans' job, exactly. AI will be used by executives and managers much this way, I think: to help gin up investment in future-forward products that require less labor costs to make, to buffer layoffs or attrition in human departments, and to hire more part-time or project-based workers.
The question isn't if it happens, but more about how and when it does. And how we react individually and collectively. Can you individually make the shift to a new world? And for those who struggle, what can we collectively do to ease the transition. We've historically been very bad about this. Not everyone can just "learn to code" or learn to AI.
Hopefully we can do better this time around. And if we can't, maybe AI can help us.